Oscar 2017 - Merlimont
Une vraie rencontre basée sur le signe de GRANDE AMITIE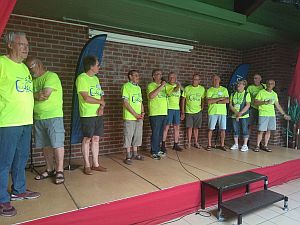 Très beau succès d'Oscar 2018 à VACANCIEL MERLIMONT mis en place avec l'aide du Directeur du centre Mr Jean-Jacques ROBIN afin de contenter un maximum les participants dans un cadre très agréable , avec le soleil , la chaleur, un personnel très accueillant , disponible à notre service .
133 participants 94 FRANCAIS 27 ALLEMANDS 7 ANGLAIS 5 DANOIS très belle et chaleureuse ambiance avec Français venus des 4 coins de France : les Allemands des coins de l'Allemagne nous avons eu le plaisir de recevoir la visite d'André SZYPURA venu en voisin .
Nous avons regretté l'absence de nos Amis Polonais.
Eurojumelages Trip to Scotland from 18th to 25th August 2014
The members of Eurojumelages this year had a very special travel experience. Marie Wilkinson had the excellent idea to book for those interested a trip with the tourist enterprise "Lochs and Glens" that took us to beautiful Scotland. . And that was indeed a very good idea! For me this was one of the most impressing Journeys of this kind. There were 36 participants consisting of 23 English, 14 Germans, and some French and Spanish members. Arrival was for many the 17th August, as the bus trip with "Lochs and Glens" started in Birmingham on Monday, 18th August.
After our Irish driver Francis had picked up all members very early from their hotels resp. overnight stays with twinners (I was happy to be invited by my good friends Maureen and Maurice Johnson to their beautiful home) started on our way and were on the M6 at 9 o'clock heading north. Already we were enjoying the marvellous landscape of the Lake District. At Gretna Green we crossed the border to Scotland and made a longish halt to have a good look at this world-famous place. Of course there was a wedding taking place with smart dress and corresponding car plus chauffeur, and a bagpiper added the Scottish flair with those sounds that do go under the skin. On the M74 the trip continued, passing Glasgow, Aberfoyle and many lochs ending almost adventurously. Because the last kilometers along Loch Arklet to our Inversnaid Hotel the road was single lane, which meant that with oncoming traffic either we or the approaching vehicles had to move back in reverse gear, and this sometimes over long distances, which was a bit of a thrill for the passengers. Towards 6 pm we reached our hotel, situated in idyllic solitude beside Loch Lomond, and with a long and interesting history of over 250 years. But then, everything here is old and breathes history, and with the hotel we had also reached the end of this road. After this end it becomes part of the West Highland Trail.
After breakfast and before we were in for one highlight of this trip, namely the Royal Military Tattoo in Edinburgh, we all inspected the surrounding area. Especially the picturesque cascade near the hotel in this wild romantic landscape was the attraction for the new arrivals. On the other side of the loch there is a power station that supplies the electricity for the area. Right next to that is the pier for ferries and other boats plus a car park for e.g. our bus which mostly remained there overnight to avoid the long ride around the large lake. Normally we would go by ferry across the loch, but today the bus was still outside the hotel, and after an early lunch we set off to Edinburgh, again on the single lane road and passing a construction site where the Arklet retaining dam was being repaired which had after one hundred years finally developed cracks. This fresh water loch supplies the surrounding area with drinking water. Passing through Stirling Safari Park we saw wild deer, and in the distance the William Wallace monument which was built in 1869 in honour of this Scottish national hero, and behind that Castle Wallace could be seen. Wallace was a great freedom fighter in every respect (1,95 meters tall) who in 1297 won the battle of Stirling Bridge against the English. Down the river Forth we made a brief halt and saw the wonderful Forth bridge, which connects the Scottish Highlands with the Lowland. Again a lot of history to recapitulate. Marie handed out rain ponchos which she had bought beforehand. Luckily they were not needed except for a short while during the show. In Edinburgh some of us made use of the offer of a tour of the town and did some shopping and/or went to a tea room for cream teas before it was time to join the queue for the castle. Then followed a longish wait and security check before we eventually settled on very narrow seats on the stands looking down at the castle grounds. We were presented with a marvellous show and returned to our hotel at 1:45 (!).
The following days we experienced the Trossachs National Park, the homeland of Sir Walter Scott, made a boat cruise on Loch Katrine with the steamship "Sir Walter Scott", and made an extensive stop for refreshments and sightseeing at Loch Achray Hotel, being the last one built of the seven hotels that belong to "Lochs and Glens". The large and elegant Achray hotel was formally a youth hostel and was rebuilt after a complete demolition. Sitting in the huge foyer with windows from wall to wall nearly, we sipped coffee and/or tea and looked outside onto Loch Fyne, a 65 km long fjord which flows into the ocean. Dolphins and seals live here and occasionally in the summer even giant sharks. Loch Fyne is well known for many oyster beds that are cultivated here extensively. Because of the merging of salt- and freshwater and thus lowering the salt content, a continuing turn of the tide, plus the amount of plankton deposited at the loch's banks these oysters are appreciated for their special taste.
On we went to Callander, where some of us stopped a quaint grocery cum restaurant where we had a bite to eat and enjoyed this lovely place. In Germany we would call this type of family shop "Tante Emma Laden". Surrounded by shelves with jars, tins, and other goods – all organic – there were tables where we sat down and had a freshly cooked meal. In the middle of the room there was a modern wood fireplace and a corner for kids to play plus books to read. Outside on a window sill birds were feeding undisturbed. On our way back to the coach the odd thing was bought by some of the visitors in the Callander Woollen Mill shop, which inside was larger than it appeared from the outside. The post office was part of a quaint little shop selling odds and ends, and a nursery garden. All in all this was a pretty little town!
Scheduled for Thursday was a trip to the lively coastal town of Oban. The oldest and most popular town for excursions in the western highlands is built in a semicircle around the bay surrounded by steep cliffs. There was an interesting fishing port with freshly landed fish and a multitude of seafood, and sitting on a little stone wall some Jumeleurs could be seen enjoying huge seafood sandwiches. High above the town loomed McCaig's Tower, a building that looks like a Colosseum and dates back to Victorian times. For some reason it remained without a roof and it never served its originally planned purpose. Now it stands an interesting town's landmark, which in itself is a purpose. Shops made good business today with Scottish articles of all sorts, and despite all the activities going on the town emanates peace and calmness, which I for myself appreciated very much.
Friday, and today's destination was Invararay, the secret capital of Argyll, and again along Loch Fyne we drove through this beautiful landscape, which in 1935 was declared as a national park. Invararay is another popular tourist attraction, and needless to say, a charming little town. Out of the three suggested attractions to be visited I picked on the local jail, which fortunately is now a museum. Both the old and the new jail show in a very realistic way the dreadful conditions under which prisoners were kept in former centuries and the cruel punishment methods of those days. As always, the time passed very quickly. Instead of spending the evening in the bar as on other days, many guests changed to the dance and entertainment hall to see and listen to Gary MacAlba Speirs, a well known Scottish singer, who tonight presented an amusing and entertaining programme.
The last day of excursions was again most exciting and informative. As a start we crossed the loch by ferry and went by bus to Falkirk not far from Edinburgh. The point of interest for this day was a visit to the Falkirk Wheel. This amazing rotating boat lift is simply unique and is the only one of its kind worldwide and was really worth visiting. I had never heard of it before although it was finished in 2002 and has been operating since then. We had the great opportunity to experience it in action by getting on a boat which was heaved up to 36 meters by the rotating wheel and passed across in that height to another canal. This is a piece of ingenuity that impressed me no end! There is a YouTube video showing it in action! After a meal and some shopping in that large and quite impressive visitor center we left to return to the hotel and narrowly escaped a heavy downpour by getting on the bus just in time. Someone called it "Jumelages weather". Or was this perhaps a Scottish car wash? Sorry!
Sunday, 25th August. In reverse order we started early in the morning at eight o'clock towards Birmingham. Everything was interesting, wonderful, varied, and will stay in everybody's memory as something very special. My thanks go to Marie Wilkinson and everybody who was part of the organization. Thank you all!
And then, or course, there was also haggis, bagpipers, whisky, kilts (I know the secret of what is worn underneath them, but I won't tell), and lots and lots of nature!
Barbara Schaffer
Hanau, Germany, September 2014
Copengague 2013
The danish group have been visited by 22 happy participants from Jumelages Germany, England / Scotland, Switzerland and France who have cycled in and around Copenhagen for 3 days. In sun, rain and wind they all came around. The few who would not ride a bike got a sight seeing in Copenhagen.
It has been a pleasure to host such a positive bunch of happy people.
Inge-Lise Flügge
Tele Idræts Club
Denmark
Au soleil de Benidorm
Details

Created on

23 November 2011

Written by

Marylène Fuselier
Séjour à Benidorm Espagne
du 6 au 12 novembre 2011
Pour sa IXè convention, l'association GTM (El Grupo de Mayores Telefonica de Valencia) et sa section de jumelage de Valencia ont invité les eurojumeleurs à participer à leur semaine organisée à Benidorm.
Nous arrivons à Benidorm, depuis l'aéroport d'Alicante, par l'autoroute et ce qui surprend c'est la multitude de grattes ciels, c'est impressionnant, on se croirait à Chicago ou à Manhattan.
Dimanche 6 novembre 2011
Accueil à l'hôtel Palm Beach de Benidorm par les jumeleurs de Valencia, dès cet instant nous avons l'impression d'être reçus en famille, l'accueil est très chaleureux.
En plus des Espagnols, le groupe est constitué de 29 participants, Allemands, Français, Irlandais, Italiens, Polonais, Portugais, un vrai Eurojumelages.
Lundi 7 novembre 2011
Après le déjeuner, à 10 heures, nous assistons à l'ouverture de la Convention des GTM. Carmen Cabrol, Présidente du jumelage de Narbonne, membre d'honneur du jumelage de Valencia, représente la Présidente d'Eurojumelages, Marie Paule Richonnier qui ne peut pas être présente à ce congrès. Carmen et Roger (qui nous a malheureusement quitté en juillet cette année) ont contribué à la création de ce jumelage. La mission de Carmen au sein de l'Union Nationale des Jumelages, dont elle est administratrice, est de développer le jumelage avec l'Espagne. C'est une réussite pour pour eux deux puisque Valencia à signé une convention avec Cologne, prochainement avec Perpignan et plus tard avec Varsovie.
L'association de Valence a rendu un hommage à Roger Cabrol en le nommant membre d'honneur à titre posthume.
A 17 h 30, les eurojumeleurs sont conviés à une réunion officielle au cours de laquelle, Carmen Cabrol et Antonia Monedero Carrión, Présidente de l'association de Valencia et Salvadora Calatayud Montell, épouse du Sr. López Tortosa, président de GMT, nous présentent le programme de la semaine.
A 18 h 00 dans le salon Dalí nous assistons à une démonstration de découpe de jambon cru de Calamocha (Teruel) suivie d'une dégustation arrosée d'un vin local.
Mardi 8 novembre 2011
La journée est libre d'activité et nous en profitons pour nous reposer. Avec Nycolle et André, nous allons faire un tour dans la vieille ville.
Nycolle a fait ami-ami avec une nuée de blanches colombes. Elle est submergée par ces colombes.
A 13 h 00 à la terrasse du bar de l'hôtel, nous participons à une dégustation de pain et huile d'olive de Pegalajar Jaen organisée par les Mayores, accompagnée d'excellentes olives vertes.
A 19 h 00 un récital de poésie de Lola Canadas (lauréate d'un prix en 2010) est proposé dans le salon Dalí .
Mercredi 9 novembre 2011
Les organisateurs nous ont proposé une visite de Valencia, nous partons en bus à 8 h 00 du matin, Valencia est à 105 km de Benidorm.
Salvita et Antonia seront nos guides pour cette journée. Nous visitons Valencia à pied, le centre historique, la Cathédrale, le grand marché central, l'ancienne Bourse du Commerce déclarée Patrimoine de l'Humanité par l'Unesco, La Poste, où nous sommes reçus par la Directrice de la Communication et la Directrice adjointe de la Direction, la Mairie avec son Musée historique municipal, la gare de Valencia qui est une pure merveille de décoration.
La ville de Valencia est une référence de la céramique depuis le moyen âge. Les « Azulejos » sont des mosaïques à dominante bleue que l'on retrouve dans tout Valencia. Cet élément décoratif est partout présent, tant sur les façades que dans les intérieurs des bâtiments.
Salvita nous emmène dans une Xocolatéria pour déguster un Chocolat chaud accompagné de Churros et après le déjeuner dans un restaurant «étoilé», le bus nous emmène vers la cité Arts et des Sciences, complexe monumental construit dans le lit asséché du Rio Turia, lieu que nous parcourons dans un petit train.
Nous n'en avons qu'un aperçu car il faudrait une journée entière pour tout visiter.
Cette journée nous a permis de mieux se connaître entre jumeleurs.
Jeudi 10 novembre 2011
Nous partons pour une randonnée vers la Cruz de Benidorm située sur la sierra Helada, chaîne de montagne côtière qui borne la ville à l'est, et depuis laquelle nous avons une vue imprenable sur la baie et ses grattes ciels. Avec le soleil, la vue est magnifique.
A 18 h 00 nous assistons à un Récital du chœur Tele – Cor de AGMT Valencia, une talentueuse Chorale. Nous avons ensuite une dégustation de produits typiques de Valencia : Horchata de chufa ou Souchet, une boisson typique de la Galice accompagné de gâteaux appelés Fartons.
A 21 h 00, le bus nous emmène dans le centre au Benidorm Palace, pour assister à un spectacle qui nous présente toute la gamme de l'art Flamenco : Sevillanas, Bulerías, Alegrías, « Zapateado » etc … mais aussi de la danse irlandaise, et autres numéros de cabaret, puis un final dans le style Lido.
Nous sommes six à notre table, Carmen, Geneviève, Marylène, Nycolle, André et Jacques et nous passons une très agréable soirée.
Vendredi 11 novembre 2011
Nous repartons avec Nycolle et André vers la Cruz de Benidorm, mais cette fois, nous bifurquons vers la maison de Gérard Depardieu construite sur les hauteurs de Benidorm.
L'après midi est libre, nous en profitons pour écrire nos cartes postales.
Après le repas, photo de famille des jumeleurs dans le salon de Dalí et à 21 h 30 fête d'adieu avec une animation en hommage à la Galice avec le rituel de la Queimada, c'est troublant et chaleureux à la fois.
Puis vient le moment des adieux, demain sera le jour du départ, nous avons la sensation de quitter des amis que nous connaitrions depuis toujours, ce n'est qu'un au revoir mais ce qui ressort de cette rencontre c'est l'amitié, la chaleur de l'accueil et le sentiment qu'à chaque instant les jumeleurs de Valencia ont toujours été à l'écoute et attentifs à notre bien être.
Merci aux jumeleurs de Valencia et tout particulièrement à Antonia et à Salvita.
---
Oscar 2011
Mardi 21 juin 2011
MERLIMONT
Mercredi 22 juin 2011
Jeudi 23 juin 2011