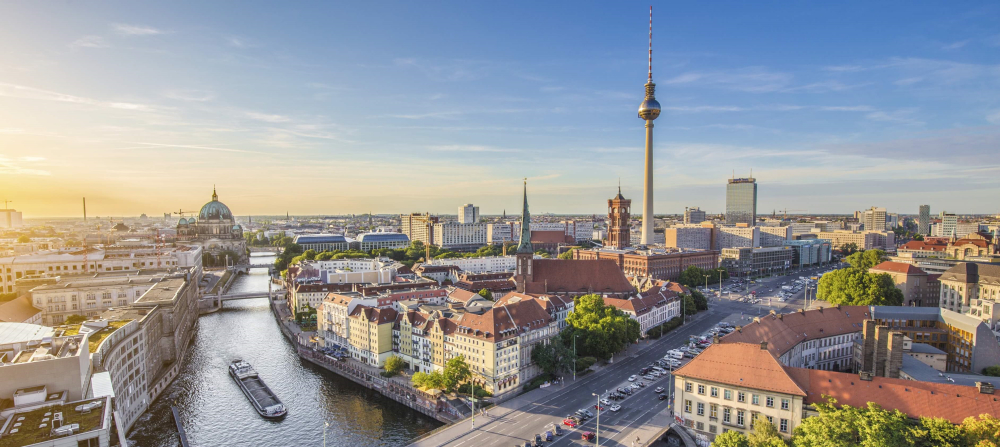 From 15/10/2021 till 21/10/2021

german language course
Language levels = Beginner, Intermediate

in Berlin - Germany
Single bedroom
1130 €
1130 €
Deadline
Deposit payment.
Balance payment.
After the confirmation by the organizer.
After the confirmation by the organizer.
Hotel Aquino/Tagungszentrum Katholische Akademie
Hannoversche Str. 5 b
10115 Berlin
Tel. +49 30 28 486 - 0
Internet: www.hotel-aquino.de/de/
The price includes
6 nights with breakfast buffet
3 x dinner in the hotel (3-course menu with 1 mineral water 0.2l
7-day card for public transport
German lessons from 9 a.m. to 1 p.m. from October 16 to 20, 2021
City guide on 4 afternoons with a visit to the Reichstag, boat trip on the Spree, visit to a museum, etc.) City tax
OPTIONAL: a show at Friedrichstadtpalast (please note when registering whether you are interested, price approx. 55-60 €)
The price does not include any lunch.
Account name = JEPTT Sektion Berlin
IBAN = DE93 1001 0010 0050 7031 06
BIC = PBNKDEFF100
Reference = Sprachkurs Deutsch 2021
Please note: the price displayed is an estimate and will be revised according to the number of participants.
Each participant must take care of their own cancellation insurance (especially Corvid-19)
Program => details to follow
Friday, October 15th, 2021 arrival
Saturday, October 16, 2021 9 am-1pm course
Sunday, October 17th, 2021 9 am-1pm course
Monday, October 18, 2021 9 a.m. - 1 p.m. course
Tuesday, October 19, 2021 9 a.m. - 1 p.m. course
Wednesday, October 20, 2021 9 a.m. - 1 p.m. course
Thursday, October 21, 2021 Breakfast, departure