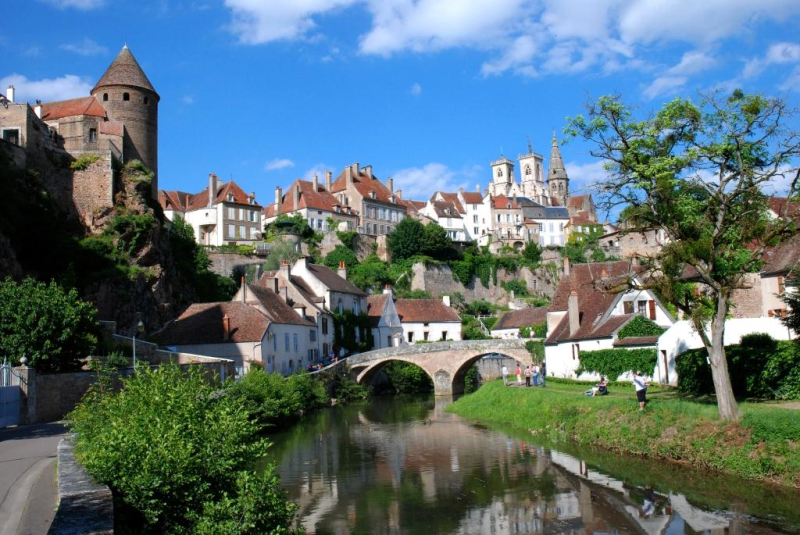 From 01/07/2019 till 05/07/2019

OSCAR
in Semur-en-Auxois

(cycling and walking and "recreation")
Organizer = JELPFT Dijon
Double room
370 €
150 €
220 €
Room for 3 persons
356 €
150 €
206 €
Single room
420 €
150 €
270 €
Deadline
Deposit payment.
Balance payment.
During registration.
Before 30/04/2019
VVF Villages Bourgogne - Semur-en-Auxois
Hameau de Allerey
Le Lac de la Roncière
21140 FLÉE

Tél.+33 (0)3 80 97 12 99

Le village propose des pavillons de deux chambres. Dans chaque pavillon, il y aura deux ou trois personnes. Il y a un lavabo dans chaque chambre, et une douche dans le pavillon (pour 2 chambres).
Option 1
VELO groupe 1 = 100km environ
VELO groupe 2 = 2x30km environ
RANDO groupe 1 = 20km environ
RANDO groupe 2 = 2x7km environ
Ni vélo, ni rando : séjour en toute liberté dans l'esprit d'OSCAR
Option 2
On vous proposera, lors de l'inscription, de préciser la taille du t-shirt souhaité.
Account name = Jumelage LPFT21
IBAN = FR82 2004 1010 0404 0400 7B02 541
BIC = PSSTFRPPDIJ
Payment by transfer to the specified bank account is prefered. You can make this transfer even if your currency is not the euro. Please use the account PayPal of Eurojumelages onIy when you have great difficulty making the payment. In this case you will have to increase the amount to be paid by 4.5% compared to the initial amount. After your registration go to the menu 'Payments', on top of this screen or click on the folIowing icon


Le prix comprend :
Draps et serviettes de toilettes fournis
Pension complète, vin de table inclus.
Paniers repas en remplacement de déjeuners non pris au village
Diner du terroir
Un groupe musical soirée
L'assistance Assurinco annulation, rapatriement est comprise.
Il appartient à chacun de s'assurer contre les risques encourus ou ceux que vous pouvez provoquer lors du séjour.
http://cotedor.pagesperso-orange.fr/jumelage/video/oscar-semur-2019.mp4

Lundi : Accueil des participants à partir de 15h30


Mardi et Jeudi
;
activités
VELO 1 = 100km environ
VELO 2 = 2x30km environ
RANDO 1 = 20km environ
RANDO 2 = 2x7km environ
Pas d'activités
: Séjour en toute liberté dans l'esprit d'OSCAR
Cartographie du lieu avec les parcours vélos sur une carte (OSM) interactive.
http://u.osmfr.org/m/269029/
Mercredi
: Excursion en bus. Visite guidée des grottes d'Arcy-sur-Cure, Déjeuner au restaurant, Visite de Vézelay, la colline éternelle et visite de la basilique Sainte-Madeleine, retour par Avallon
Vergangene Veranstaltungen