French language course
in Argelès-sur-mer - France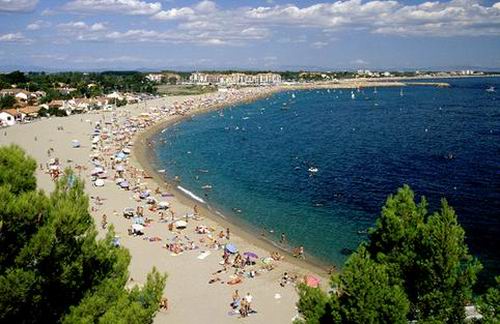 From 25/04/2015 till 02/05/2015

French language course
Language levels = Beginner, Elementary, Intermediate, Advanced, High

in Argelès-sur-mer - France
Double room
540 €
200 €
340 €
Single room
0 €
200 €
-200 €
Deadline
Deposit payment.
Balance payment.
15/03/2015
During registration.
Association des Jumelages de La Poste et France Télécom – Perpignan
La Banque Postale : compte N° 176 M Montpellier (0300000176M)

IBAN : FR27 2004 1010 0900 0017 6M03 020
BIC : PSSTFRPPMON
Payment by transfer to the specified bank account is prefered. You can make this transfer even if your currency is not the euro. Please use the account PayPal of Eurojumelages onIy when you have great difficulty making the payment. In this case you will have to increase the amount to be paid by 4.5% compared to the initial amount. After your registration go to the menu 'Payments', on top of this screen or click on the folIowing icon


Le prix comprend : l'accueil au point d'arrivée à Perpignan ou Argelès, la pension complète avec boisson, la soirée du vendredi soir, les visites prévues, les transports, les pourboires, les cours.
Le nombre de chambres seules est limité, le montant sera indiqué lors du reglement du solde
En cas d'annulation, le remboursement serait effectué sur les bases d' « Azuréva »
Monsieur René Gaurenne
4 rue Labruyère
66000 Perpignan

Tél : 00 33 6 80 14 34 36 (Portable)
Domicile : 0 033 4 68 56 81 86
Fax : 00 33 4 68 51 38 48
Email :jum66gaurenne@orange.fr
Samedi 25 avril 2015 :
Accueil des participants à Azureva ou à leur point d'arrivée à Perpignan ou Argelès.
Dimanche 26 avril 2015 : Journée Jumelages
Matin : départ en Bus et visite du Musée de la Préhistoire à Tautavel –
12h30 Grillade Catalane à Notre Dame de la Salut à Pia
Après-midi : Visite du Château de Salses
Lundi 27 avril 2015
Matin : Cours
Après-midi : Visite des Caves BYRRH à THUIR
Mardi 28 avril 2015
Matin : Cours
Après-midi : libre
Mercredi 29 avril 2015
Matin : Cours
Après-midi : Visite des gorges de la Fou, mondialement connues puis visite
de la cité d'Arles sur Tech
Jeudi 30 avril 2015
Matin : Cours
Après-midi : Visite des grottes des grandes canalettes à Villefranche de Conflent
Vendredi 1 mai 2015 :
Matin : Cours
Après-midi : libre
19h30 : soirée fin des cours avec animation
Samedi 2 mai 2015
Matin : Départ des participants selon les heures prévues