French language course
in Grenoble - France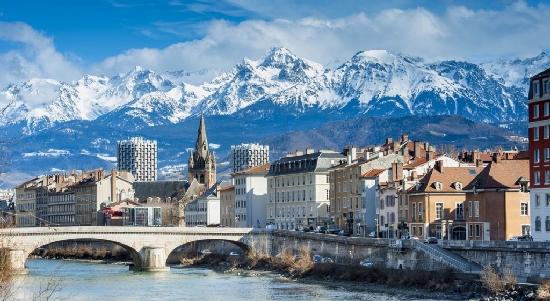 From 18/06/2017 till 23/06/2017

French language course
Language levels = Beginner, Intermediate, Conversation

in Grenoble - France
Room with double bed in the hotel
355 €
150 €
205 €
Room with twin beds in the hotel
380 €
150 €
230 €
Single room in the hotel
490 €
200 €
290 €
Twin room in youth hostel
335 €
100 €
235 €
Quadruple room in youth hostel
310 €
100 €
210 €
Room with 6 beds in youth hostel
310 €
100 €
210 €
Deadline
Deposit payment.
Balance payment.
During registration.
Before 28/02/2017
Hotel =
Auberge de jeunesse=
10 avenue du Grésivaudan
38130 Echirolles
Tél : +33 (0) 476093352
The price includes the classes, city transport, tours, market and cooking , accomodation
but not the meals that have to be paid on site.
Estimated price for 9 meals (depending on your appetite):

150 €
Account name = Jumelages La Poste France Télécom de Grenoble
IBAN = FR04 2004 1010 1701 9359 1H02 815
BIC = PSSTFRPPGRE
Payment by transfer to the specified bank account is prefered. You can make this transfer even if your currency is not the euro. Please use the account PayPal of Eurojumelages onIy when you have great difficulty making the payment. In this case you will have to increase the amount to be paid by 4.5% compared to the initial amount. After your registration go to the menu 'Payments', on top of this screen or click on the folIowing icon


A preliminary test will grade the participants.
Elisabeth Dechenaux
President of the "association de Jumelage La Poste FT de Grenoble"
21 rue Lorenzaccio
38100 Grenoble
Tel 33 (0)688119923
elisabeth.dechenaux@wanadoo.fr
The course will include 20 lessons, a cooking workshop with shopping at the market, a visit of Grenoble and its museums, Vizille, cradle of the French revolution, theater and bowling ...