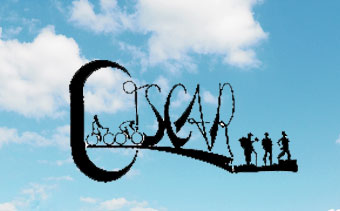 From 26/06/2021 till 01/07/2021

Virtual OSCAR

(cycling and walking)
Organizer = Sekcja Eurojumelages Poczta Polska w Gorzowie Wlkp.
Deadline
Deposit payment.
Balance payment.
26/05/2021
During registration.
Option 1
Do you participate in a group organized by your association?
Are you the group organizer?
Or are you participating individually?
Option 2
On vous proposera, lors de l'inscription, de préciser la taille du t-shirt souhaité.
Account name = Stowarzyszenie EuroJumelages
IBAN = PL98 1140 2004 0000 3912 0968 3121
BIC = BREXPLPWMBK
Reference = Oscar 2021 Virtual
The cost is € 20 per person for participants in an organized group, and € 25 for individual registrations.
You may not be able to get to Wroclaw for one reason or another. But you want to participate in this hiking and cycling rally activity.
It is possible, without even having to leave your region! You will go out on a circuit that you will organize yourself, and you will share by photos and videos with all the other participants!
OSCAR 2021 VIRTUAL - STEP BY STEP
Gather a team or participate alone!
Calendar
What should I do? ?
What will I receive? / Notes
From now

Register the participant (s)

Make the payment of the participations

Plan in my region 2 OSCAR routes (an Oscar route is done on foot or by bike)

on foot you can hike 5km over half a day for example or 15-20 km over a day
by bike, the route will be 60 km or 100 km

Each participant will receive:

an OSCAR 2021 t-shirt
a € 5 voucher per person for participation in an activity organized by EuroJumelages Gorzów Wlkp., usable until the end of 2023
a degree

Wait for the package with the t-shirts
Distribute the t-shirts from 06/26 to 07/01
du 26/06 au 01/07

Complete the Oscar routes - participants must wear the Oscar 2021 t-shirts

Take photos and / or videos

before 5 p.m. on 01/07
Send

a report of the hikes at the above address
at least 2 photos and / or a film on this website
Manual here

You can send your route in the form of a .gpx file for example, or a description of the route traveled
at 7 p.m. on 07/01

Watch the live webcast of the Oscar closing ceremony in Wroclaw
distribute diplomas to participants

The broadcast address will be indicated during Oscar.

You will participate in the common joy and pride of the winners
Vergangene Veranstaltungen