Feast of Jesús Nazareno in the collegiate church of Tanes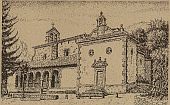 The collegiate church of Santa María La Real is located in the Redes Natural Park, next to the Tanes reservoir.
On 14th September, a festival is held there in honour of Jesus the Nazarene, whose image is venerated in a chapel in the church.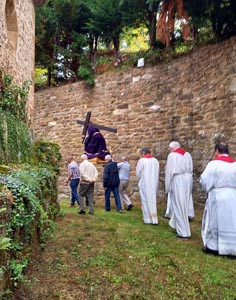 The liturgical acts consist of a solemn mass, accompanied by bagpipes and drums, followed by a procession around the church.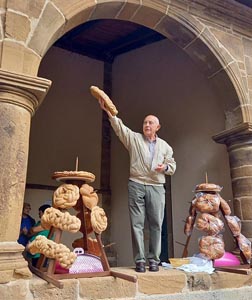 Then, in the portico of the church, the "puja del ramo" (in Asturian puya'l ramu) takes place, one of the most traditional acts of the Asturian festivities.
This ancestral custom, of Christian origin, has been documented since the 14th century, although it is believed to have pre-Christian origins.
The "ramo" is a pyramid-shaped wooden structure in which bread donated by the villagers is placed, blessed during the mass and auctioned off after the procession. The bid reaches prices much higher than the value of what was auctioned. The money raised will be used for the conservation of the church and other parish expenses.
María Blanca Bueres Santa Eulalia,
Association Valencia, Spain